Discover more from ITKparent
ITK (in the know) parent is a free newsletter for parents, caregivers, educators -- anyone who wants to learn more about kids and technology!
What homework?
Kids in China subvert the digital classroom, micro-networks are on the rise, sadfishing explained, and apparently, you can live-stream yourself sleeping.
ITK News
ITK is going on spring break, so no newsletter next week (March 19). I'd say we're headed to far-flung destinations with tropical beaches where all drinks are served in coconuts, but that would require getting on an airplane. Instead, we're going to self-quarantine with some camping. Don't fret, ITK will be back in your inbox March 26.
And as ever, if you like ITK, your friends will too – please forward this on!
Quick Fix
Read more about kids in Wuhan uniting to get their homework app dropped from the app store. American educators should take note as they develop on-line learning plans.
Fear Not
Check out this Parentology article about the rise of micro-networks as a backlash against typical social media that focuses on amassing "friends" and "likes."
In short, micro-networks are smaller, more contained social networks that offer higher quality information about fewer, more important people. Sometimes referred to as micro-social media or microcommunities, they focus on connection, rather than popularity. 
After explaining micro-networks in general, the article goes on to outline one of the more popular micro-networks, Cacoon.
What's That
We really like the "Teen Talk" columns in Parents Magazine. A while back, we featured an article explaining cancel culture from a teen's perspective. Today, it's sadfishing. The author, 21-year old Cassidy Littleton, writes,
Sadfishing is when someone exaggerates their emotional state in order to get sympathy or attention from an audience. Generally, this shows up on social media in different forms, whether that be in tweets, Instagram captions, or Facebook status updates. Sadfishing often capitalizes on sadness, hopelessness, and negativity, and it can be an extremely toxic echo chamber for teens to get caught in.
Cassidy goes on to explain why teens engage in sadfishing, the impact it has on them, and what parents can do to help.
ITK Picks
Should you be spending more time with your family in close quarters over the next couple weeks, we wanted to recommend a few tech activities to help pass the time:
Make a family podcast: This NPR article is a good place to start as it outlines apps that teachers use to help their students make podcasts. If you give it a whirl, tell us about it on our ITK Facebook Group page.

Make stop motion videos: My daughter and I have been doing this for a while, and she's really getting the hang of how to move the figures/characters to create neat snippets. We've been using the app Stop Motion Studio, but there are plenty to choose from. From there, you can get out paper and pencil and go old school by making a flip book.

Make art: Art for Kids Hub is a family favorite in our house, appealing to toddlers, grandparents and all ages in between. The host breaks down each drawing into easy-to-follow steps and has videos with different levels of difficulty, targeting different ages and techniques.

Cook or bake something new together: binge The Great British Baking Show on Netflix for inspiration!

Watch stranger sleep on TikTok…Okay please don't, but see the article below, because this is for real.

These are just a few ideas, if you have others, please share them on our Group page.
Follow Me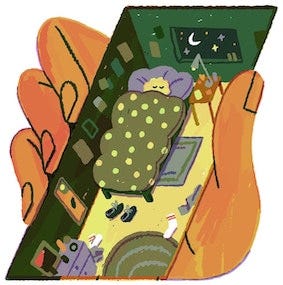 My best response to this New York Times piece is, "huh?!" Perhaps one of our wonderful subscribers has insight as to the appeal of watching a stranger sleep or, even more bizarre, deciding to stream yourself sleeping. As an exhausted parent, who struggles to actually get to sleep, voluntarily watching someone else sleep seems like pure torture.
In the Weeds
How many times have you asked your kids to wash their hands today? I bet it corresponds nicely with how many times they've rolled their eyes at you. The struggle is real, and we're in it together.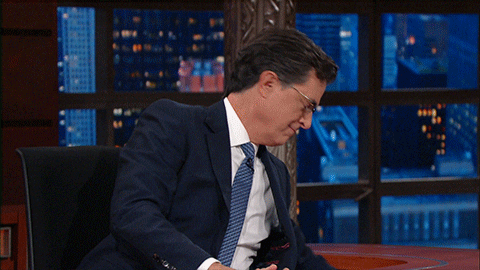 As Mr. Roger's mom told him so long ago, "Look for the helpers. You will always find people who are helping." Big ❤️ to this Queens Charter School for being helpers.
But, seriously, please wash your hands!
ITK out. We'll see you in 2 weeks after spring break here in Colorado!